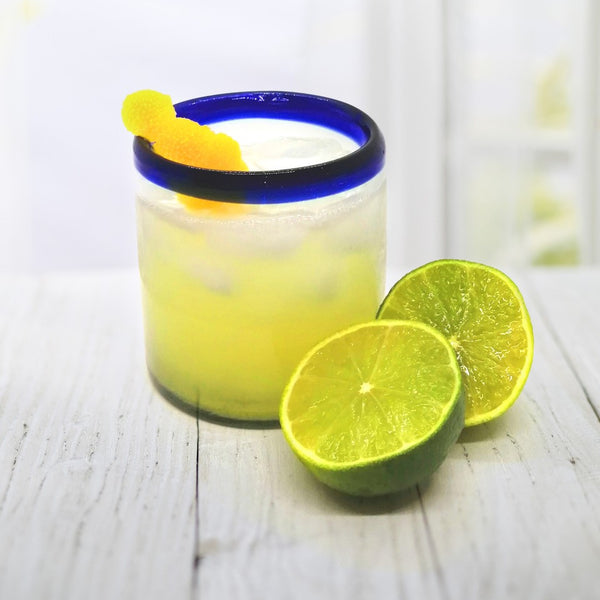 LIKE
DRINKING
YOUR
FIRST
DAY OF
HOLIDAY
Cleo Rocos is passionate about tequila. Good tequila. In 2009 Cleo was honoured with a prestigious award by the tequila industry in Mexico. She decided to create AquaRiva 100% Agave Tequila as she could not find a premium, smooth, 100% agave tequila at an affordable price. Cleo's AquaRiva 100% Agave Tequila range is made from hand-selected eight-year-old Blue Weber agave plants and volcanic spring water from the highlands of Jalisco, Mexico. AquaRiva Tequila is made in a family run distillery in Arandas, Mexico. It is an internationally multi-award-winning brand including the award of 'Best of the Best' in America.
Cleo spent over 11 months working with a master blender in Mexico, to create the 3 profiles of AquaRiva Premium 100% Agave Tequila. Cleo wanted to minimise the burn often found in tequila and to feature the warmth and agave flavours. It's a very long process to get right, reducing the burn and also reducing the methanol to a very low level, so enabling customers to wake the next day feeling fresh and fabulous.
A premium tequila with multi-award-winning profiles, it can be sipped and savoured as a short drink and is perfectly balanced for cocktail enthusiasts and bartenders.
The highest rated 100% agave tequila is produced sustainably in the Highlands of Mexico. No harsh alcohol burn, no additives no preservatives, just agave and volcanic spring water. Accessibly affordable, perfect for all cocktails including Margaritas. Bar tenders' #1 choice of tequila. Available in RTD form as a Margarita or Espresso Martini. Also producer of AquaRiva Organic Agave Syrup.
Brand performance
% Sales Growth in Past 12 Months

50 %
Tequila Blanco

38% ABV

Tequila Reposado

38% ABV

Organic Agave Syrup

100% Pure Agave
"Like drinking your first day of Holiday"… Dancing on the wing of an airplane to celebrate

Online Shop

"In 2011 I decided to create a tequila that I could not find. A high quality, premium, well-crafted tequila at an affordable price and something people actually wanted to drink."

Cleo's Bio