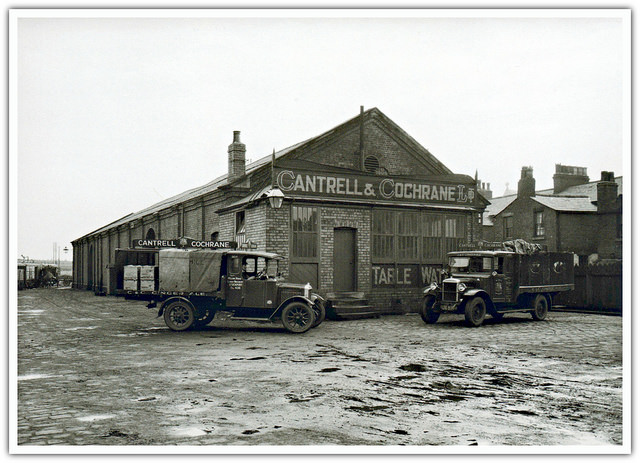 1556

Although founded as 'H&R Tennent', by Hugh and Robert Tennent, brewing had been taking place at the same site on the banks of the Molendinar Burn since 1556, making it the oldest continuous commercial concern in Glasgow.

1740

Originally known as the Drygate Brewery, Wellpark Brewery was established in 1740 at Drygate Bridge, near Glasgow Cathedral.

1827

C&C Group Plc, Formerly "Cantrell & Cochrane Limited"

Dr. Thomas Joseph Cantrell was born in Dublin in 1827. He qualified as a medical practitioner and became a principal assistant at Grattan & Co, a Belfast firm of chemists which also manufactured soft drinks. Historians widely credit Dr. Cantrell as the first inventor of 'ginger-ale' and Cantrell & Cochrane's embossed the slogan "The Original Makers of Ginger Ale" on its bottles.

1852

In 1852 Cantrell left Grattan & Co to establish his own chemist business with James Dyas at 22 Castle Place, Belfast. There Cantrell & Dyas also manufactured mineral waters, ginger ale, lemonade and soda water.

1862

Cantrell established depots in Dublin, Liverpool and Glasgow.

1864

Hugh Tennent (eldest son of Robert) assumed control of the business. Hugh Tennent retired in 1855 with his fifth son, Charles Tennent, taking over, but he died in 1864, some months before his father. The brewery was subsequently operated by trustees on behalf of Charles Tennent's sons, Archibald and Hugh.

1884

In 1884 Hugh Tennent took control of the company and first brewed Tennent's lager in 1885. He later built a new lager brewery on the Wellpark site, which was begun in 1889 and completed in 1891. J&R Tennent produced the first draught lager in 1924, the first canned lager in 1935 and the first keg lager in 1963.

1887

HP Bulmer was founded in 1887 in Hereford, England by Henry Percival "Percy" Bulmer, using apples from the orchard at his father's rectory and an old stone press on the farm next door.

1904

By the time Henry Cochrane died in 1904, Cantrell & Cochrane was one of the largest Irish exporters. He was succeeded as chairman by his son, Ernest Cecil Cochrane (1874 – 1952).

1925

In 1925 Cantrell & Cochrane was sold to E&J Burke, bottlers of Guinness in America. At this time Ernest Cecil Cochrane also stepped down as Chairman.

1935

In 1935, local man William Magner begins commercial cider production in Clonmel, South Tipperary, Ireland. Magner quickly established a successful cidery in Dowd's Lane, Clonmel.

1937

Magner acquired the rights to produce the Bulmers cider brand from H.P. Bulmer who acquired 50% of the business. H.P. Bulmer was the first English cider-making company and was founded in 1887 in Hereford, England. The founder was Henry Percival "Percy" Bulmer, who used apples from the orchard at his father's rectory and an old stone press on the farm next door to produce cider."

1946

Following the end of WW2, H.P. Bulmer purchased the remaining 50% of the Bulmers business in the Republic of Ireland, changing the name to Bulmers Ltd Clonmel. H.P. Bulmer maintained international rights to the Bulmers trademark, ensuring exports were distributed via the parent company rather than directly exported from Ireland.

1963

J&R Tennent was acquired by Charrington United Breweries in 1963, and in 1966 formally merged with United Caledonian Breweries, Charrington's other Scottish subsidiary, to form Tennent Caledonian Breweries. The new company's brewing was concentrated at the Wellpark Brewery and the Heriot Brewery in Edinburgh.

1965

In 1965, the company moved its main processing operations to a new complex at Annerville, five kilometres east of Clonmel, opened by then Taoiseach, Seán Lemass.

1965

Redevelopment of Wellpark starts and continues until 1968.

1968

In 1968, Allied Breweries and Guinness merged their Irish soft drinks and cider interests in Ireland and some other interests to form the C&C Group.

1999

Majorca, Spain was the first market to sell Magners in May 1999, followed by Munich in Germany in July 1999.

1999

Magners was first sold in the United Kingdom in late 1999 when the brand was launched in Northern Ireland.

2009

In August 2009, C&C acquired the Tennent's lager brand and Wellpark Brewery from AB InBev.

2009

In November 2009, C&C bought Gaymer Cider Company and with it a production facility in Somerset and a distribution warehouse in Bristol.

2012

In November 2012, C&C announced the agreement to acquire Gleeson Group, Ireland's leading drinks wholesaler and producers of Tipperary Water.

2013

In March 2013 C&C acquired an initial 50% stake in Wallaces Express, the Scottish drinks wholesalers, with the outstanding 50% stake acquired in March 2014.

2014

C&C Group plc and Williams Bros Brewing Co opened a craft brewery joint venture on the site, called Drygate Brewing Co."

2016

C&C invested over over €10 million into consolidating production and expanding the Clonmel manufacturing site.

2016

In December 2016, C&C Group plc announced an expanded manufacturing and distribution partnership with AB InBev, including new distribution arrangements for Magners in England, Wales, the Channel Islands and the Isle of Man. Existing contract brewing arrangements with AB InBev were extended, whereby C&C would continue brewing, kegging, bottling and canning certain AB InBev products at C&C's Wellpark Brewery in Glasgow.

2017

To strengthen route to market in the UK, in September 2017, C&C announced it had agreed to acquire 47% of the issued share capital of Admiral Taverns, owner and operator of circa 845 pubs, mainly in England.

2018

In April 2018, C&C announced the acquisition of Matthew Clark Bibendum, the largest independent distributor to the UK on-trade drinks sector.

2021

C&C announces the initiative "One C&C'" to integrate its Tennent's, Matthew Clark and Bibendum businesses under one management team and optimise its distribution network.

2022

C&C completed its "Out Of Plastics" campaign for owned alcohol brands at its main manufacturing sites in Wellpark and Clonmel.

2022

C&C installed Ireland's largest rooftop solar panels at Clonmel which will provide 10% of the site's electricity requirements.