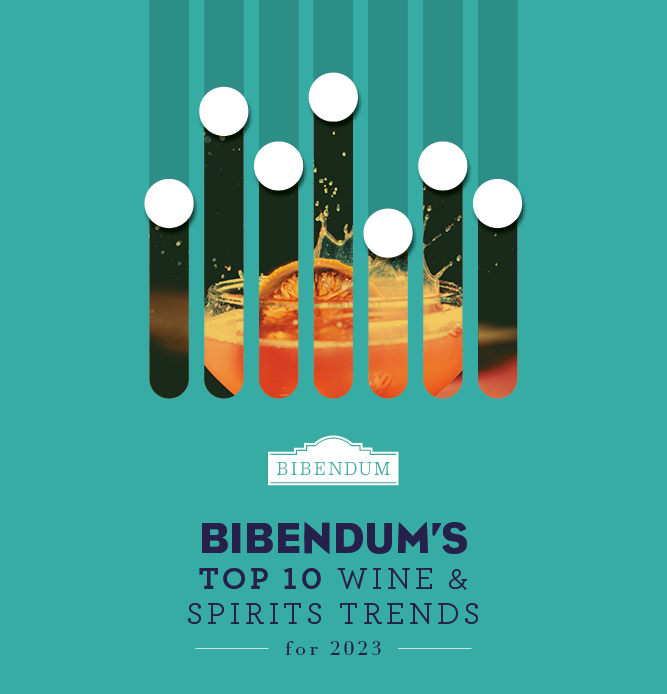 Bibendum predicts its top 10 drinks trends for 2023
Bibendum, the UK's leading premium wine specialist, today reveals that Manzanilla, South African Straw Wine, and saline flavours in cocktails are set to be some of the top trends in 2023 featuring across quality drinks lists in bars, restaurants and venues up and down the country.
The latest trends from Bibendum, based on research from PROOF Insight, highlights that the cost of living crisis and post-pandemic recovery has exacerbated consumers' desire to have fun and make the most of special occasions, showcasing the opportunity for outlets to elevate and excite with their range.   
Overall, the top trends for 2023 are:
Grower Champagne
Lambrusco and red fizz
English still red wine
Indigenous grapes
Manzanilla
Macvin de Jura
South African Straw Wine
Asian spirits and liqueurs
Saline flavours in cocktails
Smoky and wood flavours
Grower Champagne
A growing movement, that now appears in at least half of MODE-tracked restaurants, is Grower Champagne and neo-négociants.
Lambrusco and red fizz
Dry Lambrusco expressions, made with the Salamino or Grasparossa grapes, have been spotted on one in five trendsetting MODE menus, offering red fruits with violet (Salamino) or peppery (Grasparossa) notes.
English still red wine
After an excellent 2022 harvest and an increasingly warmer climate, English red is one to watch. Currently listed in 15% of MODE venues, English Pinot Noir or field blend reds are typically elegant and bursting with red cherry notes.
Indigenous grapes
There has been an increase in indigenous grape varieties from across the globe listed in trendsetting MODE venues – from Spanish Godello and Greek Assyrtiko, to the likes of Grillo in Sicily.
Manzanilla
Lighter in style than a Fino sherry, the number of Manzanilla listings have almost doubled and is listed in at least one third of MODE restaurants. Consumers are appreciating this dry version of sherry from the town of Sanlúcar de Barrameda which, given its proximity to the sea, takes on a saltier flavour profile than Fino.
Macvin de Jura
As consumers take an interest in the Jura (Wine MODE 2022), they are also noticing the traditional sweet and fortified wine from the area – Macvin du Jura. Listings have doubled in MODE restaurants since 2019.
South African Straw wine
While Vin de Constance is a mainstay in South African dessert offering, listings of Straw wines from South Africa are growing. Made from grapes dried on straw mats, the grapes are harvested when they still retain a hint of acidity so the drying process concentrates both the sugars and the acidity in the grape resulting in a balanced dessert wine. South African Straw wine appears in one in 10 Wine MODE restaurants.
Asian spirits and liqueurs
Asia continues to inspire cocktails in MODE trendsetting bars – eight of out 10 (82%) bars offer cocktails containing Asian ingredients, particularly from Japan, with the likes of Sake, Shochu and Umeshu proving popular.
Saline flavours
Half of MODE trendsetting bars offer a saline cocktail, proving popular with under 35s who enjoy these salty flavours. Seaweed is a well-liked alternative to traditional salt, found in 14% of MODE trendsetting bars.
Smoky and woody cocktails
Smoky cocktails can be found in one third (32%) of MODE trendsetting bars, alongside woody cocktails (36%).