Magners
raise money for
The Bee Friendly Trust
through Spotify
This year, Magners partnered with the Bee Friendly Trust, supporting its hugely important work with honey bees and pollinators which are facing decline.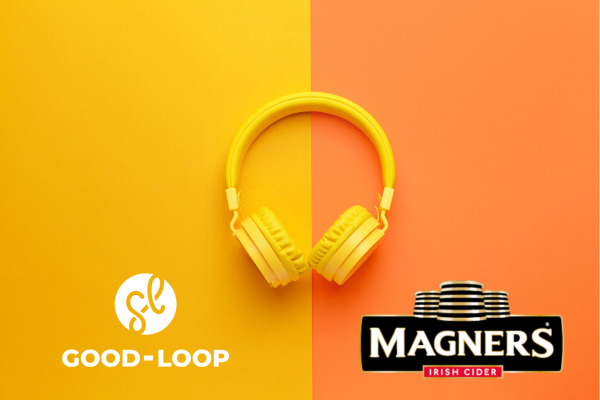 Bees, through their pollination, are a vital part of Magners cider making process at its orchards in Clonmel, and therefore a charity that felt natural to get behind.
Working with Good-Loop, an online advertising company who create meaningful ads that deliver real social impact, Magners have done a brilliant job in raising money for the charity through Spotify.
Every time someone listens to Magners' new spot on Spotify, they'll hear a message that lets them know they've generated a free donation to The Bee Friendly Trust.
Through our collaboration with Goodloop/Spotify, we've raised an impressive: 
The new listen-to-donate format was created by Good-Loop for Magners "Gardens – Best Served With Magners" campaign, and the approach aims to combine the power of advertising with social responsibility, making ads a win-win for both the advertiser and the viewer.
Iain Telford, Magners' senior brand manager, said: "Bees are absolutely critical to the production of Magners, and we are so pleased to be supporting the Bee Friendly Trust in its mission to create habitats for honeybees to thrive. The listen-to-donate format with Good-Loop is a fantastic platform for us to deliver our new campaign, which puts Magners at the heart of garden moments, while at the same time directing funds to a cause that means so much to us."
There will also be opportunities at each of the Magners gigs for attendees to donate, with the creation of a delicious Bees Knees cocktail helping boost fundraising efforts too.
This is an amazing achievement and we're so proud to be supporting such a worthwhile charity.
Who are the Bee Friendly Trust?
The Bee Friendly Trust is a UK-based charity dedicated to transforming the nation's neglected spaces into thriving floral habitats for honeybees and other pollinators. Their mission revolves around the understanding that bees are integral to our ecosystem and the food chain. There would be no cider without bees!
The Bee Friendly Trust aims to reverse the decline in bee populations and improve biodiversity. Their initiatives typically involve planting wildflowers, creating habitats, and installing planters at railway stations and other public spaces, thereby providing crucial forage for bees in urban areas.