One of England's best known and most loved ciders, Blackthorn was founded in the rugged hills of Somerset – a county which inspires a spirit of courage and determination. With its distinctive clean, crisp taste, Blackthorn Cider is founded on a passion to never settle for ordinary. Today, Blackthorn still uses bittersweet apples that are native to the West Country of England, and is affectionately known by the locals as 'Thorn'.
Shepton Mallet, in the heart of the West Country, is the home of the Blackthorn cider mill. It's here that Blackthorn cider has been made for over 50 years.
We have long-term relationships with local growers from Somerset, Devon, Dorset and Herefordshire and over 90% of our fruit comes from within 50 miles of the cidery.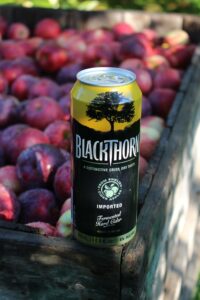 Just like the mysterious blackthorn tree whose fruit becomes sweeter after enduring a harsh winter yet still deliciously crisp and dry

Learn More

Warmer weather calls for simpler weekends and refreshing cider 

Is there anything better after a day spent in the outdoors?

Take a Look

Grab a Thorn, support your team, and enjoy 

Grab life by the Thorn and let's cheer them on together!

Find Out More